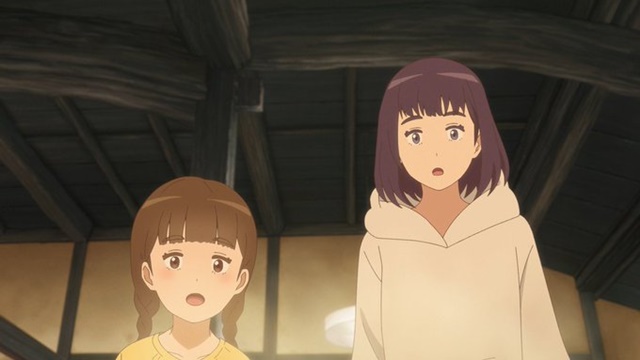 The official website for the forthcoming anime feature film adaptation of Sachiko Kashiwaba's fantasy novel Misaki no Mayoiga (The Abandoned House by the Cape) has released a main visual and a 65-second full trailer featuring its theme song "Mayoiga" performed by the three-member Japanse alternative rock band Hitsujibungaku.
This film is one of the three titles of Fuji TV's "Zutto Ouen. Project 2011+10…" to support each of Iwate, Miyagi, and Fukushima Prefecture in 2021, the tenth anniversary of the Great East Japan Earthquake. The other two titles are the original TV anime Backflip! aired in Japan in the spring of 2021 and the forthcoming original anime feature film Hula Fulla Dance to be released in December 2021.
Also, in addition to Mana Ashida as the protagonist Yui, it is announced that Shinobu Otake will play Kiwa-san, the mysterious grandmother who helps Yui, and Sari Awano will play Hiyori, a girl who has lost her voice.
Shinya Kawatsura (Non Non Biyori)-directed film is set to be released in Japan on August 27, 2021. Reiko Yoshida (Girls und Panzer) provides a screenplay, david production (JoJo's Bizarre Adventure) works on anime production.
Full trailer:
Main visual:
/⋰

メインビジュアル公開????

⋱

????????????????????

ユイ: #芦田愛菜

ひより:#粟野咲莉

キワさん:#大竹しのぶ

????????????????????????

原作:#柏葉幸子

監督:#川面真也

脚本:#吉田玲子

キャラクターデザイン原案:#賀茂川

音楽:#宮内優里

主題歌:#羊文学 『マヨイガ』

制作:david production#岬のマヨイガ pic.twitter.com/ukRMAo5hlx


— アニメ映画『岬のマヨイガ』【公式】 (@misakinomayoiga) July 6, 2021
Story introduction:
Yui, a 17-year-old girl who left her home for some reason, and Hiyori, an 8-year-old girl who lost her voice due to the shock of losing her parents in an accident. Having lost their place in the world, they meet a mysterious grandmother, Kiwa-san, and decide to live in a mysterious old house called "Mayoiga" built on a cape overlooking the ocean. The two follow Kiwa-san without any particular reason, but as they get to know Mayoiga, a legendary house that welcomes visitors, and Kiwa-san's warmth, their wounded hearts gradually healed.
Then one day, a gentle yokai called "Fushigitto" visit Kiwa-san. He came to help Kiwa's investigation of a series of strange phenomena happening in the town. Along with the existence of Fushigito, Kiwa-san tells the legend of "Agame," which has been passed down in the area for a long time. "Agame" is said to grow from people's sadness, and "Fushigitto" is an entity that protects people from the shadows.
Yui strongly thinks that she never wants to hurt her new found place and the kind people around her. Will Yui, Hiyori, and Kiwa-san be able to overcome their respective pasts and protect their precious place in the world?
---
Source: "Misaki no Mayoiga" official website / Twitter 
©Sachiko Kashiwaba, KODANSHA/2021″Misaki no Mayoiga" Production Committee