By Izzy Bonvini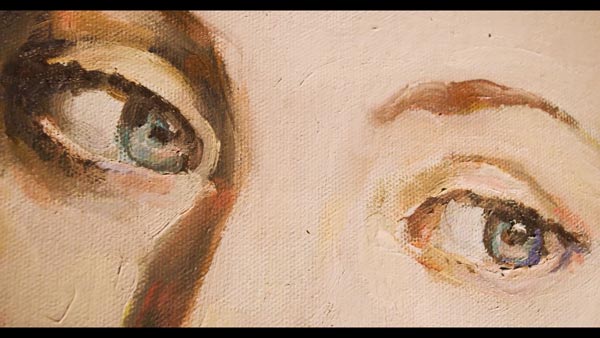 Into the Light is the sort of documentary that exists to change the life of both the film's subject and its viewers.  Filmmaker and director Benjamin Schwartz did us the great service of not only coaxing artist Chuck Connelly back into his rightful place in the sun, but of sharing Connelly's art through art of his own.  The film will be available for streaming worldwide on Saturday, June 12 at the 2021 New Jersey International Film Festival.
Chuck Connelly is a genius whose works have long gone underappreciated and unseen by the public eye.  After a 2008 documentary changed Connelly's life and career for the worst, Schwartz set out on the task of providing him with a fresh start and a chance to depict his growth as an artist and human being.  Throughout the entire film, the two are very candid about how Connelly overcame addiction and devoted his life to his work, but that story cannot be told without delving into his reclusive tendencies.
One of the biggest challenges faced by Schwartz with this film was, evidently, to get Connelly to leave his house, a home filled from top to bottom with masterworks that never really had the opportunity to see the light of day.  Connelly is a creature of habit and likes what he likes, all else be damned, an attitude which would occasionally lead to on-camera outbursts about being treated like a performance monkey.  He would break the fourth wall and yell at the camera, and in those moments I, the viewer, protected by a screen, would feel the wrath that gave Connelly his infamous character. 
Most of these outbursts would occur when Connelly was initially coaxed out of his house to paint in say, his backyard, a field, or eventually New York City.  By the time his work was done in most of these situations, Connelly would be at peace, even in a joking mood, and his art would be full of a life that could only be captured in the outside world.  This process truly brought him out of isolation and into the light, but watching Connelly at work in any setting is a revelation.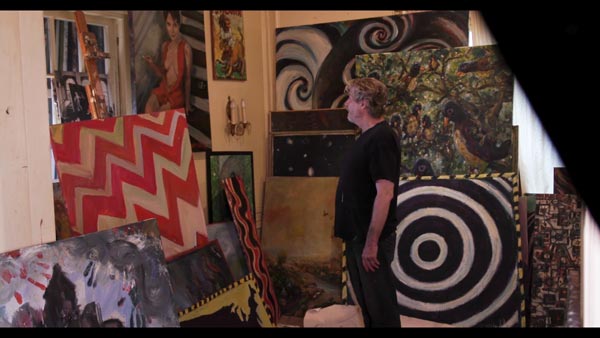 Into the Light is a very sensory film; you can practically smell the paint and cigarette smoke that constantly lingers in his home, and you can feel the paint that lives between his fingernails and on his coffee mugs and milk cartons.  There are really visceral shots of Connelly painting, picking up globs of paint with his brushes, moving his fingers around on his canvases, and smudging and shaping his work with paper towels.  The film's synesthesia, the attention to detail and genius editing done by Robert Carter, reveal some of the method behind Connelly's artistic madness, and provide the viewer with an intimate look at his process.
And yet there is also a softness to Connelly's story, one that peels away his hardened, calloused exterior to show a man who can love and be loved.  His relationships with his neighbor Delores, artist friend Mark Glista, and cat Fluffy reveal a side of him that is vulnerable and even downright friendly at times.  Another such relationship is seen when artist Sonya Sklaroff travels to Connelly's home for a sort of masterclass with him.  Together, they collaborate on a massive canvas to create a cityscape in ways that are new and exciting to Sklaroff.  In this moment, as a teacher, Connelly seems truly in his element, helping Sklaroff redefine what she had formerly known as the rules and limitations of artistry.
The human side of Connelly is also shown through stills and closeups of his multitudes of work.  Schwartz and his team went through the artist's extensive collection and hand-picked pieces that spoke to the narrative of the film, displaying Connelly's work in all its phases.  Through the art that was chosen, the viewer can feel the highs and lows of his personal life, of his struggle with alcoholism and transitioning over to a more reclusive sort of life, and his unique perspective of the world around him.  Carter edited to show these stills of his paintings in order to match the mood of what was happening at any particular moment in the film.  This, paired with music by Connor Ragas, compliments Connelly's journey and immense talents perfectly. 
Into the Light is a triumph about Chuck Connelly's work and current life that allows you to fall in love with the man and the art in all their perfectly imperfect glory.  By taking Connelly out of his comfort zone and giving him the opportunity to choose growth, Benjamin Schwartz and his team humanize a man so demonized by the art world, and provide him a natural path to redemption.  Don't miss your chance to watch Into the Light and art-based short Supermalo on Saturday, June 12 through the 2021 New Jersey International Film Festival.   
Here is the Into The Light 2021 New Jersey International Film Festival Q+A with Into The Light Director Ben Schwartz, Festival Juror Izzy Bonvini and Festival Director Al Nigrin:
To buy tickets to this Video On Demand screening on June 12, 2021 go here.
Here is more info on the films:
Supermalo – Matthew Seger (Brooklyn, New York) To be jailed on a regular basis for the content of your art. To lack materials and colors for your vision. To be barred from art studios and venues because your art is not government sanctioned. These are some things that are unimaginable to a lot of artists, but something Fabian Hernandez has to go through everyday to continue making his art. Cuban street artists are having their moment. Their own fight against the countries harsh censorship laws have recently made international headlines. Fabian is one of the movement's fearless and prolific leaders. You cannot walk for more than a few blocks without seeing his character, the Supermalo or his signature 2+2=5? painted on the crumbling walls of Havana. Supermalo follows Fabian's development as an artist over the course of two years. The film explores the struggles of creating work in his home country of Cuba and documents his first time ever leaving the island to exhibit his artwork internationally in Paris. In Spanish, subtitled. 2020; 15 min.
Into the Light – Benjamin Schwartz (New York, New York) In the 1980's Chuck Connelly was recognized as a key figure among the New York-based Neo-expressionist painters. This film captures Chuck at his essence: manically painting, smoking in a deteriorating claustrophobic home packed with over 5000 original works, and trying to overcome a lifetime of failures, regret, and missed opportunities. 2020; 74 min.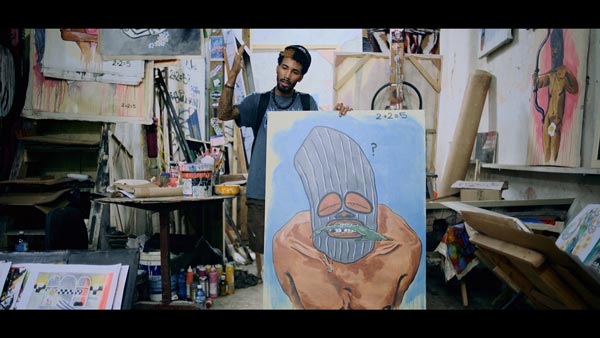 originally published: 06/09/2021
---
---
---
---
---