By Emily Ranieri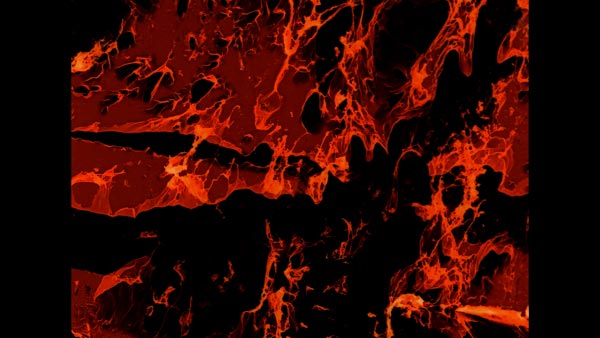 Shaquille Galvan's My Strange Loop, which is playing at the 2021 New Jersey International Film
Festival on Friday, June 11, is an experimental film which focuses on a girl named Sarah who is stuck in a
strange, endless loop wandering a dimly lit hallway. This Sisyphean story makes the audience
feel as though they are also walking in an endless loop which further captures the cyclical nature
of the film. My Strange Loop is both a surreal and disorienting film, as the viewer is meant to be
just as disoriented as Sarah and the others who are trapped in the strange loop. Sudden, yet
subtle, changes are meant to add to the confusion of the film because the hallway is changing but
the loop restarts nonetheless.
The visuals of My Strange Loop are indeed strange. The film begins with a black screen
overlayed with distorted streaks of color accompanied by blaring static as background noise; this
opening scene definitely indicates the strange and unsettling nature of the film, and these visuals
and sounds permeate Galvan's short. Sarah is introduced simply by walking down the hallway
which we will see her do numerous times due to her role as a Sisyphean character. She is seen
avoiding displaced objects and clutter until she stumbles upon a cinder block which she
mindlessly picks up, indicating that collecting these cinder blocks may help her escape this
endless loop. As Sarah completes more loops around this haunting hallway, more cinder blocks
appear; they weigh her down, but she is still determined to collect them in order to finish the
loop and escape this nightmare.
Sarah meets others along the way who are also walking along this endless loop, but seem to have
different goals in completing it. Two men are seen running down the hallway past Sarah. When
one stops for a drink, the other one urges him to keep going, signifying that their goal may be to
consistently run around this loop rather than collect cinder blocks.
Despite being the same location, the hallway and loop are still everchanging. New objects appearand old ones disappear. The lights on the ceiling also change color, like from a dim yellow to a bright pink. These changes signify the puzzling nature of the loop, as there is a pattern those stuck in the hallway must figure out in order to escape. These changes make the film even more disorienting because it seems as though the hallway is coming to an end due to these changes, but the loop always restarts. At the end of the film, Sarah is transported to a dark cave in which she finds the final cinder block under a pile of dirt that she must collect. The first and only words are uttered during this scene, adding to the strange nature of Galvan's film.
The film ends with the opening scene of a black screen streaked with color and a distorted static as background noise. This is an example of the brilliance of the film, for the opening scene recurring as the final scene reinforces the cyclical nature of Sarah's Sisyphean journey and the cyclical nature of the film; it transports the viewer into this never-ending hallway and makes them feel as though they are truly a part of this strange loop and a part of Galvan's world.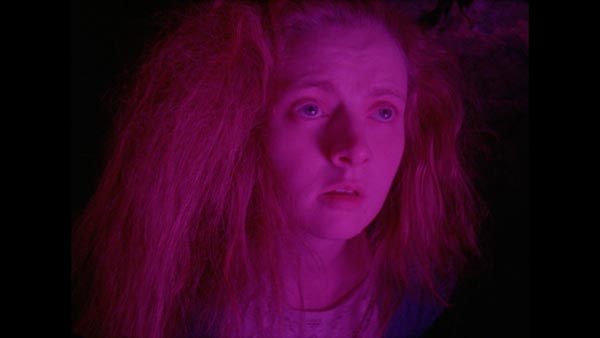 My Strange Loop plays at the 2021 New Jersey International Film Festival as is part of the Experimental Film Program on Friday, June 11!
Film will be available on Video On Demand for 24 hours on this show date.
To buy tickets and get more info go here. 
Friday, June 11 – Experimental Shorts- $12=General
Sometimes a little Sin is good for the Soul – Alex Beriault (Bremen, Germany) Sometimes a little Sin is good for the Soul is an experimental short film that takes place within an architectural, almost painterly world. Interior structures, shapes and colours form together the unusual spaces within which three women are suspended. Somehow their actions and mobility remain bound to their surroundings, and time moves slower than the speed of life to underscore the strange conditions of these subjects. All the while, a glowing red "Exit" sign periodically reappears to tease and perturb its cold, taciturn surroundings, but no matter how often the sign reveals itself, it never points towards any clear way out. Digitized 16mm, 2020; 8 min.
My Strange Loop – Shaquille Galvan (Denver, Colorado)  In this exploration of the feeling of being overwhelmed, Sara, a Sisyphean figure, attempts to reach the end of a nightmarish hallway, but finds herself stuck in a strange loop. 2020; 12 min. 
Amphibians – Drake Howard, Devin Finn (Austin, Texas)  Amphibians confronts two universal issues, race and gender. Myster must face the reality of his own dreams or be subjected to a never ending cycle of inauthentic truth. 2020; 12 min. 
S T O P – Marieli Froehlich (Vienna, Austria)  We are all almost uninterruptedly exposed to countless unfiltered events, both near and far. Reflecting this kind of overwhelming situations the idea for STOP came up.  The project can be understood as an action of deceleration, a call for slowdown from a state of sensory overload, a flood of stimuli, that consequently leads to a restriction of our original perception.  Contemplation or meditation, an exercise that has had its place in all cultures, offers people the opportunity to experience oneness within themselves and further leads to a feeling of unity with their fellow men.  Referring to this project, people from all walks of life, of all ages, religions and race from around the world were and are invited, to take on a sort of meditative sleep state without preparation or artificial setting in their personal environment and stand still for a few minutes, allowing me to record them. During their brief pause the world keeps turning and the grass still grows. The participants are turning towards silence experiencing a gentle stillness spreading throughout themselves. The goal of that continuing project is to collect as many people as possible to participate in the experiment.  Experiencing the projection of an "entire world" of people in contemplation also creates a feeling of oneness and inclusion for the viewers. Division and prejudice, whether racial, religious, gender, class or political believes, are thus consequently eliminated in this moment. 2020; 16 min.
Frankston – Patrick Tarrant (London, England)
Frankston is a study of the place I grew up, a satellite of Melbourne, Australia with affordable housing, nature-strips and beach views. The downright ordinary nature of the opportunities and festivities afforded by Frankston, and the ambivalence one can feel going back there, nonetheless give rise to a new aesthetic: the suburban symphony. In this case the symphony is rendered in strange hues and luminescences as though affirming Robin Boyd's depiction of 'the Australian ugliness' in 1960, where he claims that "taste has become so dulled and calloused that anything which can startle a response on jaded retinas is deemed successful." 2020; 21 min.
originally published: 06/10/2021
---
---
---
---
---