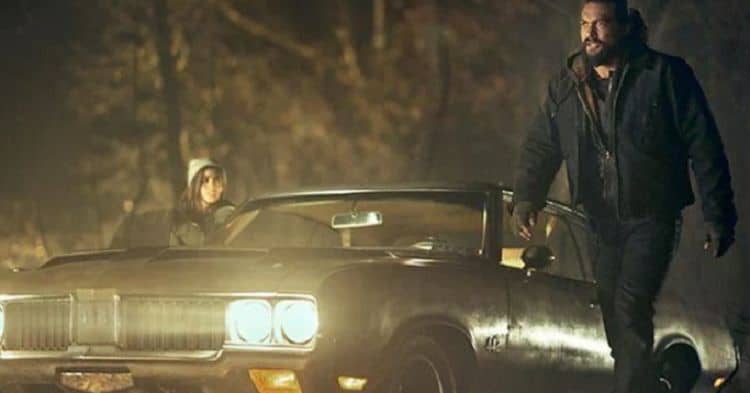 Just to be clear, the whole Netflix sizzle thing isn't going to work too well for a few people when it comes to actually featuring a teaser of a movie that people might want to know more about since the fact is that trailers are always pretty cool, but when they fly by too quickly to really make that much sense of them and only highlight certain movies in a big way, well, it's kind of a letdown. Granted, teaser trailers aren't exactly going to show much depending on the trailer, but if anyone else was hoping to see more one Sweet Girl with Jason Momoa it's likely that this was a little disappointing since we really didn't get to see much. The main gist of the movie is that Momoa will be playing the part of a father who wants to get justice on the people that killed his wife while protecting his daughter at the same time, so at the moment it doesn't feel as though the plot is too complicated to keep up with. But where it goes from there is what we'll have to wait and see since as you can already note from this teaser, there isn't much that's being given at the moment. One can't really blame the Netflix sizzle since it's likely that after a year of dealing with the pandemic and trying to be as careful as possible, a lot of people are hoping to enjoy a summer packed with more than a few good movies and anticipated shows that they've been waiting for since all of it is bound to serve as a giant pick me up. But if the sizzle is the new thing that we're going to be seeing from now on whenever a bunch of different movies and shows are coming out, huh boy.

Jason Momoa has been moving steadily forward with his career at least since in the last several years things have been looking up as he's taken on one great role after another. In a movie such as Sweet Girl though it almost feels that he's going to have to switch gears just a bit and become a little more sensitive in order to come off as something more than just a tough guy as he's done in several movies and TV shows. He's done this before in the movie Braven and he's shown that he can be a bit more sensitive, but considering that Braven was still during his growing period, meaning he was still stretching his acting muscles in a big way, it feels as though it wasn't quite as complete as it could have been. His transformation into Aquaman might have been good enough to prove that he wasn't just a musclebound warrior that could crack a joke when he felt the need, but it also turned him into more of an underwater frat boy that still had anger issues, even if he did play the role quite well and is already being anticipated in the sequel. The one thing that Momoa still hasn't done a lot of is interact with kids on screen, and despite the fact that he's been revealed to be a very caring father, being on screen with a kid is a different matter. There's no doubt that he can make it work, but that's why watching Sweet Girl will definitely be on our list of things to do when it comes out.
For a good part of his career in the past decade or so, Momoa has been moving steadily upward as taking on roles in such shows as Game of Thrones, Frontier, and movies such as Aquaman, Justice League, and even Braven have proven to be advantageous. He's had a few duds as well, such as Bullet to the Head with Sylvester Stallone, but he's recovered nicely and despite any thought that he might not be able to recover from one misstep in a movie, Jason has still been pushing forward to bring us something else that proves that he's still got a lot that we haven't seen yet. At this rate it feels that he could, if he tried, become one of the next legendary action stars if he keeps getting the right roles and expands his repertoire a bit here and there. Let's be honest and say that his time as Conan the Barbarian, while not the worst action movie of all time, was kind of hard to watch since when wanting to see someone that could possibly take on Arnold Schwarzenegger's legacy, Momoa isn't a bad prospect, but the story he was given to act out was all kinds of horrendous since it felt like a serious detraction from the classic Conan saga. But he's still one of the biggest names in action today, and hopefully he can maintain that.